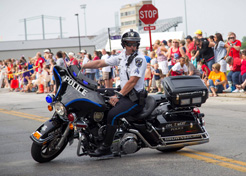 Corporal Tony West is a 3rd generation police officer. He is a 14-year veteran and Medal of Bravery recipient of the Brownsburg Police Department.  He currently holds the rank of Corporal and is assigned to the Traffic Unit on a motorcycle.  Corporal West's experience ranges from patrol to a Field Training Officer for 5-years.  He was also an ERT Operator for 9-years and specialized as a Sniper for the team for 5-years.
He served with the Honor Guard for 8 years and recently rejoined that unit. Corporal West has been a State Certified Law Enforcement Instructor for the state of Indiana since 2004.  His experience as an Instructor has ranged from Law Enforcement Ethics, Building Search Techniques, Active Shooter, S.T.O.P.S. and most currently Police Motorcycle Operations.
Corporal West is responsible for the activation of the Motorcycle patrol at the Brownsburg Police Department.  In 2007 he completed a study on the need of police motorcycles at the agency and presented the study to the Police Commission and the Agencies Executive Staff.  The BPD purchased their first motorcycle in January 2008 in which Corporal West was certified by the Indianapolis Metropolitan Police Department that spring.  He patrolled for 1-year and his success brought on a second motorcycle to the Agency.  Since that time the motorcycle patrol has primarily focused on traffic enforcement, accident investigation and traffic studies.  The unit also organizes and participates in numerous special details that range from static displays to the general public, to motorcycle and Dignitary escorts.
As mentioned above, Corporal West is a Nationally Certified Police Motorcycle Instructor in which he attended the Northwestern University Center for Public Safety in the spring of 2012. In his dedication of excellence as a motor officer to the American Legion, Brownsburg Post 331, Corporal West was inducted as an honorary member of the American Legion Riders in the summer of 2012. In the spring of 2014 Corporal West was responsible for the addition of a 3rd motorcycle that was added to the unit. In the summer of 2014 Corporal West completed a study on police motorcycle tactics and submitted a 42 page chapter for the revised S.T.O.P.S. manual set for release in 2015.