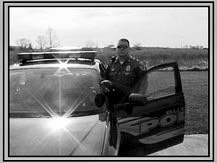 Randy Duhamell is a 20 year veteran of the Butler City Police Department and the Chief of Police for the Woodburn Police Department since 2013.
Randy served as Detective Sergeant and oversees investigations. Randy has more than 38 years martial arts experience including National Honors for Competition and Training. He was the former Indiana Assistant Director of Kickboxing for the PKC for ten years, covering the northern Indiana district.
In 1990-91 he was awarded the Professional Karate Commissions "Full Contact Trainer of the Year Award", and in 1996-97 he placed in the "TOP TEN" in North America by placing 7th in Masters Fighting Division for the PKC.
He is a Master Ranked Martial Arts instructor whom has served as an ILEA Certified Psycho-motor Skills Instructor since 1991. He was a certified PPCT instructor for more than 12 years. A fight shows promoter, announcer and trainer he has trained fighters in Mixed Martial Arts and Kickboxing for the last fifteen years.
He has worked for more than four years with the legendary Dan "The Beast" Severn in MMA Fighting events. Randy has developed the DPTS training system for police officers, body guards and security personnel.
Randall W. Duhamell
22 yrs LEO (20 yrs at Butler PD; Detective/Patrol Sgt./ Evidence Officer/Supervisor/Training Officer)
21 yrs LETB Certified trainer (1991)
Graduate/Class President ILEA #93-115.
41 Years Martial Arts Experience
Vietnam Era Veteran- Assisted in Training LA SWAT '1974.
Former Indiana Assistant State Director for Professional Karate Commission (Kickboxing Division) '88-'99.
President- American Midwest Karate Association- 7th Dan Blackbelt
Lifetime Member: Professional Karate Commission.
Chief Trainer: Primal Rage MMA Team.
Former Host/Producer: "Defend Yourself" Cable TV show.
Trainer of 23 State, 18 regional and 5 National Kickboxing Champions.
Founder: Kombat Zone MMA events from 1996 to 2010.
1990-91: PKC National Full Contact Trainer of the Year.
1996-97: PKC "Top Ten" Fighter (Master Division)
Consultant/Indiana State Capital: MMA rules and regulations for development of Athletic Commission and MMA in Indiana.
Founder: DPTS Physical Tactics System for Law Enforcement and Security Personnel.